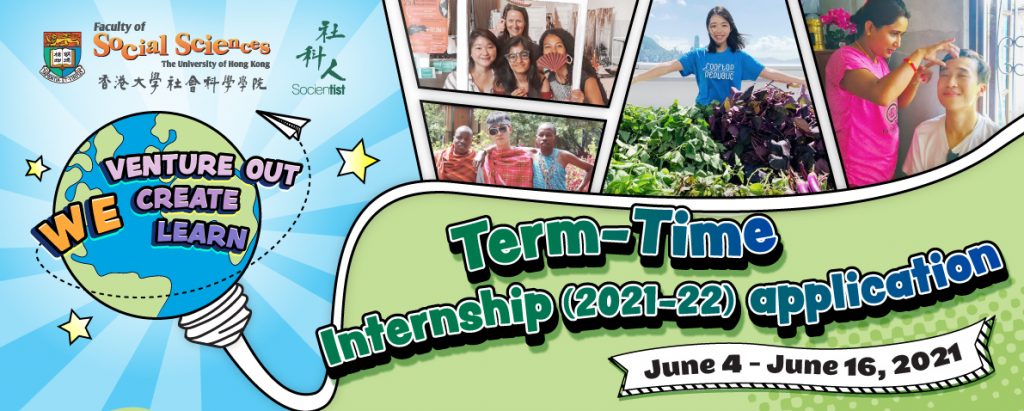 The Term-time Internship in the 2021-2022 academic year is now open for application from June 4 (6:00pm) to June 16 (12:00noon), 2021. This year we have 54 Community Partners with 79 projects / topics offering 173 placement opportunities for students. Apart from local internships for students' fulfilment of Social Innovation requirement, the Faculty will also offer some 'Global Citizenship at Home' ('GC@Home') placements which students can opt to fulfil the Global Citizenship requirement.
This year the Faculty has developed a virtual space on the GatherTown Platform where you can access the background information of Community Partners and internship descriptions of the Term-time Internship. Online Individual Consultation Sessions will also be arranged via this virtual space.
Please read the following important information before entering the GatherTown space.
---
Important Regulations about Internship Application
non-acceptance of internship offers will be penalised and your entire application will be withdrawn. Your next application for internship placement will only be processed from the second round in that exercise;
once you have accepted the internship offer, your withdrawal or incompletion of the internship shall result in FAILURE of the internship course;
students are not allowed to take courses over the maximum study load of 72 credits in one academic year. In this connection, you are reminded to reserve 12 credits for Social Innovation / Global Citizenship Internship in the 2021-2022 academic year; and
as a special arrangement under COVID-19 pandemic, 'GC@Home' placements will only open to

FOSS students in their third year of study or above

in the first round of application for meeting their graduation requirements by 2023.
---
Getting Started
Use your computer to connect; Mobile/Tablets will not work.
Recommend to use Google Chrome or Mozilla Firefox, Safari may not be compatible.

There is limited capacity to access the GatherTown space at one time.

If you cannot enter the space due to the limited capacity, please try again later or check the information directly on the Experiential Learning System.
Participants should still follow the University's code of conduct in the GatherTown platform. Please help make the virtual space a welcoming, respectful environment for everyone.
Logon to the GatherTown Platform: https://gather.town/app/eKtKdcIIOKWyzCNI/SIGC-Internships [Please refer to the Faculty's email (Subject: "Application for Term-time Internship 2021-2022" sent from "socii@hku.hk") for the Password].
Online internship application should be submitted via the Experiential Learning System.
---
When you are on the GatherTown Platform
Main area
Read the documents on the information desk (Press "X" to open the document); Access the Experiential Learning System to work on your internship application; Join the Online Individual Consultations.
Exhibit rooms
Checkout background information of Community Partner organisations and internship descriptions. Press "X" to open the placement advertisements of each booth. There are three exhibition rooms where you can find placement advertisements under below categories:

GC@Home: 'Global Citizenship at Home internships' (GC@Home) which offer a cross-cultural context to understand the global issues in Hong Kong. These internships can meet either Social Innovation or Global Citizenship requirement. Please check the individual placement descriptions for the language requirements, if any.
Local Internships (for Chinese speaking students only)
Local Internships (Non-Chinese speaking students are also welcome)
---
Online Individual Consultation Sessions
If you need advice on identifying your choices among the internship opportunities and get prepared for the application, you are encouraged to join the online individual consultation sessions via the GatherTown Platform (https://gather.town/app/eKtKdcIIOKWyzCNI/SIGC-Internships).
| | | |
| --- | --- | --- |
| Date | Time | Advisor from Experiential Learning Team |
| June 7, 2021 (Mon) | 1pm – 2pm | Ms Elsa Lam, Director of Experiential Learning |
| June 9, 2021 (Wed) | 11am – 12noon | Ms Winky Wu, Assistant Lecturer, Experiential Learning |
| June 15, 2021 (Tue) | 11am – 12noon | Dr Ken Yau, Assistant Director of Experiential Learning |
---
Support
---